When it comes to wellness, there's a lot more to the equation than physical health. The concept of whole-person care has gained traction in the last decade, guiding more clinicians to support their patients in more comprehensive ways. Some of these strategies involve addressing systemic barriers to accessing care or improving one's health, such as unemployment or food insecurity. Others might branch out of the "traditional" approach and lean on complementary health approaches (CHAs) like chiropractic care, massage therapy, or supplements. The options are vast, but whole-person care always relies on strong communication between providers, patients, community resources, payers, and other entities.
However it looks, whole-person care is backed by promising evidence and has considerable potential for improving outcomes and reducing costs. Let's take a closer look at the whole-person care model and what it means for your patients.
What Is Whole-Person Care?
In a nutshell, whole-person care refers to just that — care for the whole person rather than a single issue or diagnosis. It acknowledges that health outcomes depend on the intersection of many different factors, such as the patient's ability to get to the doctor and access care. It also recognizes the roles of psychological, spiritual, and social health in overall wellness. Whole-person care looks at both body and mind in developing attainable, effective care plans.
This patient-centered approach leverages a wide range of resources to provide physical, behavioral, and social support. The goal is to achieve better care coordination, well-being, and health outcomes, all while incorporating the patient's preferences and choices.
Some of the resources often used in whole-person care include:
Behavioral health integrations
Coordination with other providers, like long-term care facilities and home health services
Additional services like peer support and non-emergency transportation
To deliver these services and communicate with so many other entities, health care providers need to enlist strong care coordination efforts with next-generation data sharing technology. It also asks clinicians to be open to collaboration with other professionals and community partners.
The Five Dimensions of Whole-Person Care
As you may have guessed, whole-person care touches on just about every aspect of a patient's life. The National Institute of Whole Health (NIWH) has identified five overarching dimensions of life that influence the quality and function of a person's health and health behaviors:
Physical-structural: This aspect is the one that traditionally gets all the attention. Of course, it encompasses the patient's physical health, including things that impact it, like genetic issues, trauma, hormonal disturbances, and sleep problems.
Emotional-mental: Behavioral health, social health, and emotional well-being all play important roles in how a patient feels and how well they can pursue sustainable behaviors that improve or prevent mental health problems. Providing more comprehensive mental health support can help the patient tackle the disorder and make lasting, beneficial changes. Even people without clear behavioral health diagnoses can benefit from assessing their long-term mental well-being.
Nutritional-chemical: The foods and drinks that fuel us affect bodily processes in many ways. Good dietary practices individualized to the patient's situation can impact many outcomes and contribute to optimal health.
Environmental: Our environments can be major barriers to achieving positive health outcomes. From unstable living situations to poverty and trauma, a patient's environment can easily impact their health and access to care. A network of providers can help patients navigate environmental barriers and maximize their chances of improving their health.
Worldview: Lastly, the patient's values and worldview often play a role in their health. For example, a person's beliefs may cause them to prefer certain treatments, and their social groups can help provide support.
How Does Whole-Person Care Help?
Health is multisystemic — it involves the intersection of many different dimensions of our lives, such as socioeconomic status, gender, diet, and occupation. By using a whole-person approach, providers can address these various dimensions and set patients up for success. Whole-person care has been found to improve the patient experience, clinical outcomes, and costs. It can improve patient engagement and help address every person's unique barriers. Instead of only focusing on a patient's physical health or even one symptom, whole-person care looks at the patient's entire situation, including their emotional and mental health, their economic conditions, and their environment.
One of the major benefits of whole-person care is its effects on high-risk populations and those dealing with overlapping issues. For many people, these problems are entangled. Someone with substance use disorder (SUD) might be more prone to mental illness and vice versa. Whole-person care takes a comprehensive approach to helping a patient overcome these issues.
On a larger scale, whole-person care supports population health overall, especially if the health system develops supports most relevant to a community. Data from whole-person care initiatives might reveal a community need for more SUD resources. Health systems can then focus on meeting that demand with rehabilitation clinics, support programs, provider collaboration tools, and other relevant initiatives to improve access and reduce the cost of care. Expanding care to more people and meeting community needs can help improve population health and minimize costs overall.
What Services Does Whole-Person Care Include?
The care team involved in whole-person care is expansive. It should incorporate a wide variety of providers, including:
Clinicians: These healthcare providers are often the patient's only point of contact with the health system. They need to be adept at listening to the patient's situation and asking the right questions. They should also have a strong understanding of how to connect patients with further resources.
Hospitals, health systems, and post-acute facilities: These larger organizations can be a major part of helping patients navigate the logistics of healthcare, such as insurance coverage and making appointments.
Community resources, such as non-profit organizations or support groups: Community resources are a powerful way to connect patients with various supports, such as childcare, transportation, and social interaction.
Social workers and public health officials: Social workers may take on various roles, such as counselors and crisis interventionists. They're often instrumental in helping patients improve their emotional and mental health. They can also connect patients to further resources, such as state and federal programs that help with care access.
Pharmacists: When pharmacists dispense medication, they can contribute to whole-person care by assessing risk, especially for controlled substances like opioids. They can also help ensure patients understand their medication — why they're taking it, how to take it, and when to contact their doctor with concerns.
Therapists: Behavioral health therapists play a critical role in a patient's mental health, but other types of therapy also play a vital role in care plans. These providers might support whole-person care by encouraging patient adherence to treatment plans and documenting progress for other providers to see.
Payers: Payers can also support whole-person care by providing coverage for more services and promoting preventative care.Some payers can cover various behavioral health treatments and work with providers to provide whole-person care. Payers can also encourage providers to adopt care coordination efforts.
With a comprehensive care team, patients can access a full support system and better navigate their path to wellness.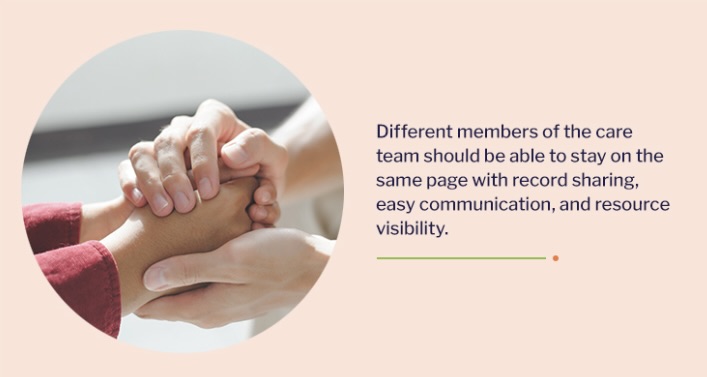 The Role of Care Coordination
The need for so many diverse providers makes communication critical. Care coordination is vital in connecting the people involved in whole-person and patient-centered care. The process of care coordination is all about delivering the right kind of care at the right time. It calls for an extensive network of providers, resources, and tools that simplify communication. Different members of the care team should be able to stay on the same page with record sharing, easy communication, and resource visibility.
Some care coordination activities include:
Facilitating transitions of care
Establishing accountability and continuity of care between providers and facilities
Providing patient education
Developing a proactive care plan
Monitoring the patient with follow-up communications
Connecting patients to community resources
Consider how care coordination can help someone with opioid use disorder. A routine visit to a primary care provider (PCP) can connect the patient with a case manager and a team that stays up-to-date on the disorder's progress. As team members, such as social workers and psychiatrists, work with the patient, they can access contextual details about treatment, including goals, analytics, and visits to other facilities. If another medical condition appears, the patient's doctor can perform educated assessments about the risk of controlled substance prescriptions and update information for the rest of the care team.
If the patient is hospitalized, their care team can access a wide range of resources. Along with detailed patient history, providers can quickly search for open beds at inpatient or outpatient behavioral health facilities, facilitate smooth care transitions, and meet government reporting requirements. The patient's care team receives alerts for care events, such as an emergency room admission or a visit to a post-acute care facility. They can closely monitor the patient's progress and communicate with them to improve the chances of a successful outcome and minimize readmission.
Without strong care coordination efforts, the process is much more challenging. In the health care journey, a patient has many opportunities to experience the disjointed nature of working with multiple providers. Care coordination and whole-person care software and programs can streamline and simplify patient care. Providers can share information, even from disparate systems and documentation processes, and support patients in navigating a complicated network of providers, payers, and resources.
How Providers Can Share Information
With collaboration at the center of whole-person care, providers must enlist effective, efficient methods of sharing information and communicating with each other. Care coordination can facilitate this level of communication. It links up different parties and different types of information to help with tasks like:
Referrals to specialists and community partners
Assessing and evaluating population health and clinician performance
Streamlining case management by integrating systems to store information in one place
Staying compliant with regulations and laws
Supporting interoperability and integration with tools
Making personalized, evidence-based decisions
Efficiently communicating with other members of the care team
Some examples of the information you might need to share include visit summaries, changes in the patient's condition, new medications, hospital admissions, and data related to health outcomes. Many everyday tasks involved in care delivery require contacting other practices and providers efficiently. A robust care coordination solution can ease these tasks with the help of modern technology. For example, a provider might be able to eliminate phone calls by immediately accessing open bed information about nearby facilities or quickly pulling up the patient's history of care events.
By eliminating barriers to information sharing, providers and health systems can greatly streamline case management and care transitions. Coordinated care helps increase visibility between the many different members involved in a patient's care. It creates cohesive networks strengthened by robust resources and data.
Care coordination should also help providers stay in the loop. Say a patient with a SUD ends up in the emergency department (ED) after an overdose. Upon being discharged, the patient is instructed to follow up with their PCP and a behavioral health provider, but the patient doesn't make these appointments. Since providers aren't aware of the hospitalization, no one follows up, and the patient never receives additional care and has another overdose, resulting in poor outcomes and high costs.
A care coordination platform can support better outcomes every step of the way, from administering Naloxone to scheduling an appointment with the PCP. When the patient arrives in the ED, all members of the care team — including the PCP, medication-assisted treatment (MAT) provider, and social worker — receive notifications through Pings. Notifications via Pings are delivered to a care team whenever the patient experiences a care event.
Medication administration is simplified through risk assessment and reporting tools. If the care team needs to arrange a transition of care, OpenBeds can identify potential options and facilitate care within the network. The OpenBeds solution replaces manual search and reporting tasks by facilitating rapid digital referrals and transfers and linking medical and mental health providers, crisis lines, criminal justice organizations and homeless services.
Support Your Whole-Person Care Initiatives with Bamboo Health
If you're looking for ways to improve whole-person care for your patients, Bamboo Health supplies you with the right technology. Stay connected to other providers and resources and gather the complete picture of your patients' health. We offer a range of services, from an admission notification system to a behavioral health facility availability and referral platform. With our Behavioral Health Care Coordination, you can take advantage of these systems and others designed to support the complex landscape of behavioral health.
Bamboo Health is a comprehensive, secure platform that integrates with your electronic health records (EHR) system to deliver contextual information and resources where they're most useful. Stay in the loop with real-time updates and a range of tools focused on providing whole-person care. Reach out to us today to learn more about incorporating Bamboo Health into your organization.